If you own a SAGE EBR chassis with a pistol grip you owe it to
yourself to check out the V2 EBR trigger shoe by EXTREME.
Why?
Because the M14 trigger is designed to be pulled in more of an upward direction.
he original trigger was not designed to work well with the angle of a pistol grip.
The V2 EBR trigger shoe is wider and longer than a stock M-14 trigger.
It is very comfortable and the tip of the trigger can no longer stab your finger tip.
The all steel V2 EBR trigger shoe is made with the correct angle
required to direct the trigger pull more to the back than up.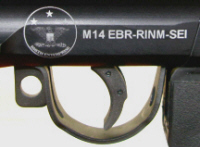 The EBR shoe was designed specifically for the pistol gripped SAGE EBR chassis and it also
works with TROY, McMillan, LAW483, CM, Archangel, Blackfeather, JAE, Vltor, M14E2 etc...